This is probably the question we get asked the most, and has the most complex set of answers.
Is it possible to have a dog yet still work full time?
Theoretically, yes of course it is. However, careful consideration needs to be made to make sure you pick the right dog and your funds allow.
Every dog we have had is different. Riley my retriever would happily be left home alone with a few food stuffed Kongs and the tv and would spend the entire day sleeping and eating. The times I did organize a dog walker for him, he refused to go out as would rather stay in bed!!
Riley's attitude is in stark contrast to that of Houdini who gets bored after about an hour of being alone. He will bark and whine and pee and poo all over the apartment (we will be covering the joys of separation anxiety in another post). When I was at school in NYC, Houdini needed to be in daycare from 9.30am until about 10.30pm at night eating away most of my savings and earnings. The time I spent with him was very limited and it was an exhausting and expensive period. Looking back, being a full time student with a dog who needed special attention wasn't the smartest (or healthiest) decision I made either for him or myself.
Living in a City generally means that transport connections are better so popping home to walk the dog at lunch is often an option. However, this isn't always the case so we have listed a few different options on how to care for both adult and puppies if you are away for a full day at work.
Having a dog in the City is one of the greatest joys of City life, yet takes work and dedication.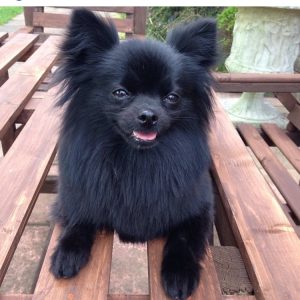 Puppy
Having a puppy and working away from home full time is a difficult mix. Puppies need to be let out frequently if crate training (every couple of hours) or have their playpen cleaned out if they are in a long time confinement area. Puppies also need lots of stimulation and if left for extended periods of time can become mischievous and destructive.
Pet Sitter/Dog Walker
If you have set your mind on a puppy, make sure you organize a pet sitter or dog walker before your puppy arrives. If your puppy is very young, it may not be able to go outside on walks yet so you will need to schedule 15-30 minute visits where your puppy gets some human interaction and also is allowed to relieve itself if crate training.  These visits would need to be scheduled approx every 2.5-4 hours depending on the puppy. 2-3 visits a day can add up so make sure you factor this into your budget.
Have a read of our guide to Picking the perfect Pet Sitter
Doggy Daycare
The cities are awash with doggy daycares but many do not take unvaccinated puppies. So if your pup is too young for daycare, a pet sitter or dog walker is the only option for you.
Daycare's are a great way of socializing your pup from a young age. Most will allow you to drop off your dog before work and pick up after work meaning your puppy is constantly supervised. This reduces the possibility of destruction and mischief in your flat while you are working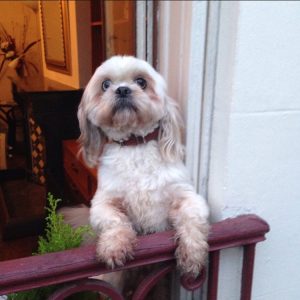 Adult Dog
Having an adult dog makes things a little easier than adopting a puppy as generally their bladder control is better and they are less likely to become bored and destructive (this isn't always the case though!)
Dog Walker
Depending on the size and age of your adult dog, depends on how long they can hold their bladder for. My 100lb retriever Riley was able to hold for 8 hours without any issue, yet my current small/tiny dogs need to pee every 4-5 hours. Once you know how long your dog can hold for, (and how long your dog can be alone for without getting bored) means you have an idea as to if a dog walker needs to visit once or twice during your absence (or even at all).
Doggy Daycare
Doggy Daycares are a great option for adult dogs. As with puppies, you can drop your dog off in the morning and pick them up after work. Some daycares even offer a half daycare option where they can collect your dog from your apartment in the early morning and drop them off after lunch so your dog still gets to spend a few hours at home relaxing. Daycare is not a good option for aggressive dogs or even those with a low tolerance to energetic dogs forcing play.
Remember: Whatever age or type of dog you pick, make sure you are financially able to afford the daily care of them. It is not fair on a City Dog to be left home alone for extended periods of time.
Your dog will not understand if you had an exhausting day at work, or had a to put in a double shift. Your dog will still need walking when you get home. So if you work a high energy, long hours job, a dog may not be the best option for you yet.
Instead of owning a dog, companies are starting to pop up such as Borrow My Doggy which allow you to have a taste of dog ownership but on your own terms. Fostering a dog is always an option if you have periods of time off (i.e teachers in the summer holidays)
What are your thoughts on having a dog while working full time?
How many hours do you leave your dog alone while you work?