There comes a time in every humans life where they wish they had as good a life as their dog!

I never envied a dogs life until I met Sophia Oddo, the incredible philanthropist pomeranian who's charity work and fashion sense puts many humans to shame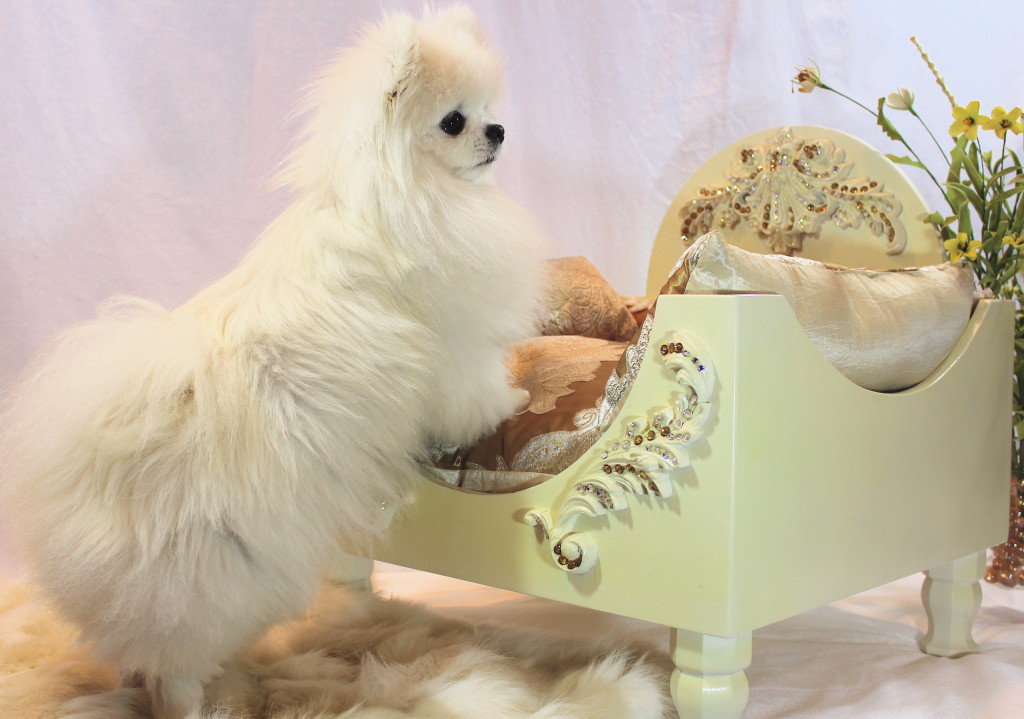 Please Introduce Yourself 
My name is Sophia Oddo, I'm an Ice White Pomeranian and I will be four years old on January 22, 2015. I am originally from South Korea and came to the US to be with my Mommy. I was a little scared because I didn't know where I was going at first. I saw a nanny in the airplane looking down at me while I was flying. She was very nice to me though, so I relaxed and tried to rest most of the trip. I was a good girl and stayed very sleepy and quiet.
When I woke up, I was in a new country. My Mommy spoke a different language but I understood every words she said to me. She was celebrating as I watched her with amazement and began celebrating with her too. I felt her love as she kissed my little forehead and gently coddled me in her arms. I sank into her warm embrace.
My new Mommy had already prepared my home for me, a new, soft comfy bed, special bowls just for me, plush, non toxic toys. Oh, this was going to be a wonderful life.
Who or what inspired your name?
I love Italy, Mommy has been there before. She's told me stories about her trip there,, the food, the architecture and history, the lovely people… ah… the people… Sophia, my name was a tribute to a classic beauty, the epitome of exquisite women of modern times, elegance, grace… none other than Sophia Loren herself. This was where my name was inspired.
Tell us a little about yourself
From the age of 9 months old, I naturally took to the runways. High fashion, glamour, cameras, television appearances … but what was even more important as a mission to me personally, was that any fashion show I participate in must somehow contribute to a local shelter or rescue committee. While I have lived a dream life, full of love and happiness, some of my furry friends are not so fortunate. They were somehow forgotten by humans who promised to love them. I decided I wanted to make a difference. Mommy believes it's important to be an inspiration also, so she's traveled from New York, California, Vegas, Miami, to participate in such events. I feel especially passionate about organizations that combine enabling of Humans and training Rescue dogs to be Service dog heroes. Mommy contributes silently to a specific organization that provides Service dog training, in addition to Enabling Service Dogs, also Medical Service Dogs.
What makes you you?
I believe I am a product of my environment. I have always had affection, gentleness, encouragement, confidence of my abilities. I am a family member, traveled with my Mommy many places, she even sits outside if I cannot be invited indoors or to an event that includes me. What makes me, me… is LOVE and trust.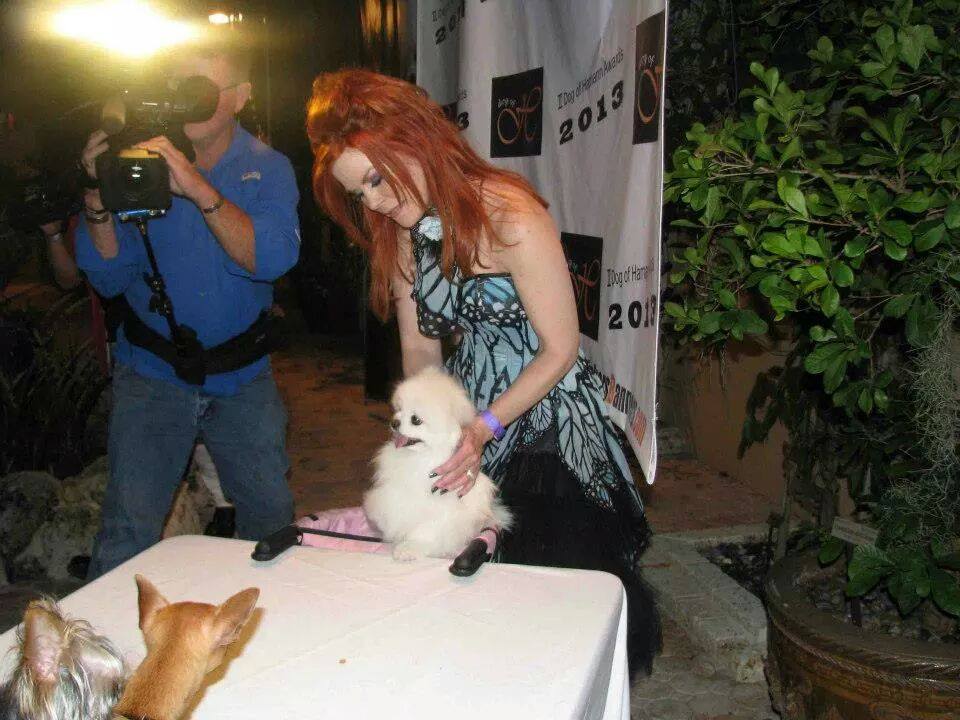 How did your mom know you were the one?
There's an interesting story here….
I was just a tiny little bundle of hair with deep brown eyes. I think I was maybe three months old then?
Mommy lives in a very small town, and one day she gathered me up and took me for ride around town. She pulled up to a service station.
While she  was slowing down, I popped myself up to see where we were.
There was a Hispanic lady there. She watched us as we slowed to a stop.
Her eyes followed our car and as I was looking down watching Mommy change gears to Park, when  I drew my eyes back up, she was right there by the car.  I was puzzled as she tapped on the window …
Mommy casually waved as to indicate, hello and I'll open the window. .
As she rolled our window down, the lady outside the car was emotionally speaking Spanish. ..her voice was kind and tender. Her sincerity was clearly evident on her face.
… Mommy understood as she was pointing to me. ..
Then she spoke in English and said to my Mommy, "Your dog, May I see her?."
Mommy replied, "Well of course."
As the lady reached out… her hand was trembling… She was a mature woman. Much experience in her life. She was a wise soul. I have intuition. I see this in people.
Then she said, almost like she was seeing a long lost friend, "Your dog here, she is special. She has a rich spirit. A very old soul. She has great purpose, this little girl."
Mommy extended herself to get out of the car and she let the lady caress my fur. She stood there silently petting me.
I watched her completely absorbing this time. My heart was moved. I didn't know this lady… never saw her again…
She was like a brief messenger…
Mommy realized at this moment, that I was a treasure and should be shared…
Mommy's treasure, but I would not just sit at home….I would try to help others.
 My Mommy says she's my protector, but she doesn't know it, I'm really her protector. I see true character in people.
What makes you different to other dogs?
I would say, my lifestyle is different that some of my furry friends. I'm hoping to be an ambassador to inspire and encourage others to see the great gift we are to our humans and to include us in their lifestyles.
Many times I am at home in the buff, but when I am at events, I have some exclusive couture, which may be curious to an outsider, but somehow this seems to make humans more receptive to allow me to participate. I'm a proper little lady, and wish others to see this and allow me to be included. Likewise, every couture designer I know is involved with Rescue and this speaks to my heart.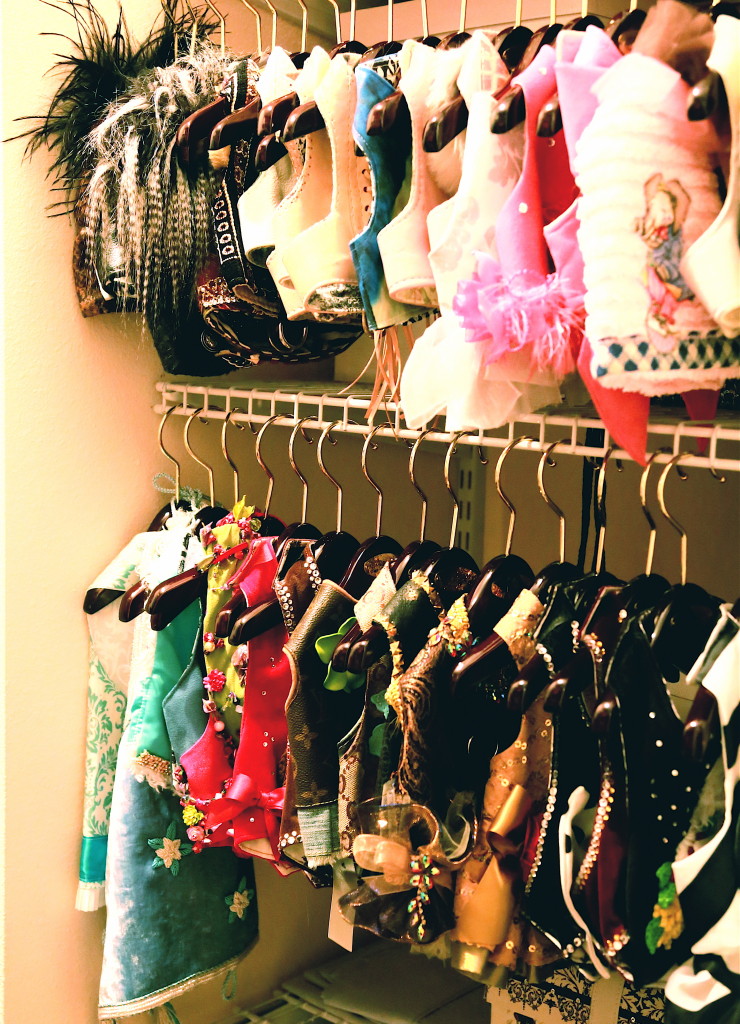 Now you are the first dog on the Boudoir series that is not a full time City Dog, but we know you have a lot of experience in City Environments. How does your normal every day routine change while in the city?
It's quite the exhilarating experience to travel, but also somewhat challenging. Getting on and off airplanes. You should see how my Mommy runs. I just watch her frantically galloping from airline gate to airline gate.
My suitcase is bigger than my Mommy's… carriers for shows and for me to sit in while we're at cafés. She has garment bags for me. I'm always relieved when she finally finds a cave for us. I think she calls them hotel rooms? We seldom are in the room, except to sleep and she organizes my fashion show clothes.
Then we are energized with the show itself. Usually this is the next day after we've gotten lost and found a cave hotel room? She finds some lovely caves though. I especially like Park Lane on Central Park in New York. And this is where another thing happens… I'm a small town girl. I don't understand the potty pads… or the wooden chips that some nice cave hotels provide in their basement….
What challenges do you face while in the city?
The very idea of sitting me down in a big pile of wooden chips. I just am appalled. I look desperate at my Mommy and try to explain to her, this is a big potty area, and it's up to my chin almost, for goodness sakes, pick me up and lets find a more appropriate facility.
Mommy had a cab fare of 40.00 per trip to bring me to Central Park the first time we stayed there. Mommy was desperately walking me in tiny dirt patches the first time, and a police officer had to correct her to proper facilities. The police officer was polite, but firm. Mommy conceded, and was on a undertaking to find a place that would appeal to me.
I was on strike. I wouldn't go in the wooden chips, I wouldn't go on paper, she couldn't find a blade of grass. She was really, really lost. Well, that's why she stays closer to Central Park now.
I have to say this though, there must be allot of other doggies out here. I sniffed the ground once, snorted dramatically and kicked my back feet until plugs of grass were  flying up everywhere. No one must ever cover up their scent for goodness sake? So, I had to do this for them. I did this for about 5 minutes, but it's a big, big park. Finally, I found a respectable place and Mommy was cheering? I don't know what all that fuss was about, but she was happy?
I'm more accustomed to city life now.  I didn't understand all of this in the beginning though.
What are your favorite things to do in the city?
Oh my goodness, I love all the people. They are so friendly to me. Few pass by without saying hello. I'm a friendly little girl, so this is heavenly. I also like all the cafes! There are many places I can sit with Mommy and we watch people passing by. I went to a show one time too. This was fun. I wore a beautiful ball gown and sat quiet while the entertainers were singing and dancing on the stage? Why do humans do this exactly, I'm not sure, but it sure is fun!? I also am happy when we settle down and cuddle up to sleep in our cave hotel too.
Do you wish you were a full time city dog? or are you a country girl at heart?
As long as I'm with my Mommy, I'm happy in either place, but I did live in Houston for a while. I had a wonderful Nanny during the day when my Mommy had matter to tend. My Nanny came to my apartment cave and would sometimes take me to some walking distance cafes. It was noisy at night though? Our balcony faced a community parking garage. Car alarms, humans singing… very LOUD and not so good either? I think they thought it was the full moon outside, but that only happened once a month or more rare, a blue moon maybe? I was quite happy to move back to my small town dwelling, but I enjoyed the experience for a while.
What accessories do you travel with?
I always travel with a favorite airline carrier, if I'm flying. If I'm not flying, but Mommy is driving my chariot, then I have a booster car seat. I also have my favorite squeaky toys (very important), and Mommy zip locks some of my favorite snacks and meals that she makes. I always have couture for special events too, and of course, carriers so I can sit comfortably. Mommy uses Chris Christensen White on White Shampoo, Foaming Protein and keeps a sample size just in case my little paws get dirty. Would you believe I really enjoy smelling pretty and getting baths, but I don't like the dryer? It's important to have little towels for me too.
What are your favorite accessories for the home or garden?
Well, let's talk food here…. My bowls are a very important home accessory. In addition to this, I love my blankies. I keep one on Mommy's bed, I have one to snuggle on the couch, I have 5 beds (one for each room so I can take comfy naps). Mommy has gotten me some wonderful, custom made beds with lavender infused pillows by Yvette Ruta.
We understand that your mom cooks all your meals from scratch, please share some of your favorite meals?
Healthy, yummy food… I dance around for my favorite meals that Mommy cooks for me. She goes hunting sometimes, I eagerly anticipate what she might bring home. She calls it the grocery store?
She says she only uses organic foods for me. I feel strong and healthy. I'll give you one of her secret recipes if you'd like:
She made this recipe and calls it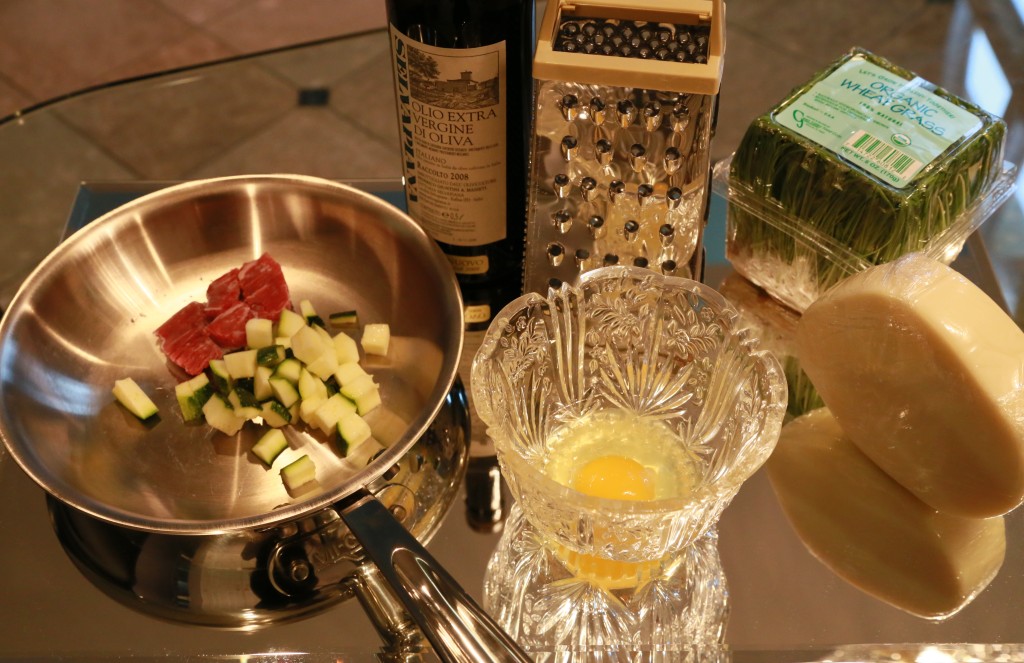 Eggs Bravura:
1 organic brown Egg
1/3 cup of organic, chopped  Zucchini
1/3 cup of organic, chopped carrots (optional)
1/3 cup of organic steak filet (cubed) (or baked, unsalted chicken)
1 tsp Extra Virgin Olive Oil
Dash of organic Wheat grass snipping
1 tblsp Grated, organic Provolone cheese (I use Columbus Cheese)
 In bowl, use a wisk to beat eggs and add wheat grass snipping. Set to side.
 Add Olive Oil to skillet. Add cubed filet, Zucchini, and carrots to skillet.
Cooking temperature at medium to medium/high on stove top and toss steak, carrots and zucchini evenly until filet is browned well.
 Place meat, carrots and Zucchini onto a platter.
Use same skillet with Olive Oil residual remaining and add eggs. Cook lightly then add the steak, zucchini and carrots into the eggs and
Briskly fold together. Remove from heat.
 Let cool to be lightly warm before serving to your royal canine.
Talk us through a day in the life of Sophia 
Seems Mommy has a routine for daily activities. 3:30am, the alarm is sounding. I have beds throughout the house so I can snooze during the day to be comfortable because our House cave has marble floors, but at night I have my own pillows and blankie on Mommy's bed. Mommy helps me get up there, then she pats where she wants me to snuggle. I affectionately look at her for a few seconds, almost nose to nose. Then I roll around upside down and wiggle with my paws blissfully pawing the air. When Mommy wakes up, she's pretty slow around the house, but I hear her in the kitchen with things rattling to prepare me snacks and every morning fresh water is placed in my bowl. After she's turn on a box that has pictures and sound (she calls it the television), she always turns on a channel that is happy for me.
She brings me outside and I enjoy the fresh air, soft breeze usually in the morning, so I savor the moment. Then we go back inside. She waits for my Grandma and Grandpa to come stay with me. They take me places around town, and my Grandma is a wonderful cook too. She has a special menu that Mommy gives her for my meals during the day. After a while, Grandma and Grandpa find Mommy and she comes back to make me a yummy dinner and we snuggle again.
(This is, when we aren't traveling)
 Would you describe your life as pampered, spoiled or perfect?
Oh my… these words are almost synonymous…. Because I have all three, but perfect… well, that would include pampered and rightfully spoiled, so I will choose "Perfect."
Sophia kisses to you!!!!!!!