This year we made a pledge to reduce the amount of waste we have within the household and reduce our pollution levels. For the humans, it was relatively easy- carry our own carrier bags, don't use the car, purchase products in no plastic, recycle where ever possible, go paperless, and compost any leftovers. However, after having done this for a few weeks we realized that the dogs and all their necessities were producing a huge amount of waste that we wanted to reduce.
The obvious ways to reduce waste are to recycle dog food tins, buy reduced packaging products, etc so we asked dog owners online for some more creative ways to reduce waste and be an eco friendly dog owner. Here are their top tips
Make extra food for your dog
Such an easy and smart tip. Whenever you are making a meal, add some extra veg or meat to the pot so you can add some to Fido's meal through out the week. This is a great way of supplementing their daily meals with extra goodness of vegetables, but also a great way of making cheap treats. Dawn Ann Langan cooks 2 packets of sausages for her family of 4 so that she can cut up the left over meat to use as dog treats throughout the week. Genius idea. Dawn isn't the only person that uses leftovers for her treats, Ursula Wells, also saves extra veggies and leftover roast dinner from the "human food" to give to the dogs.
Use reusable Pee Pads
If your dog is pee pad trained, instead of using disposable pee pads that fill up landfills, make a switch to reusable pads that last for years and just need to be washed to be good as new.
Nat Ralph only uses washable pee pads for her chihuahuas. They reduce waste and are convenient. They also work out cheaper as a long term investment rather than buying disposable ones.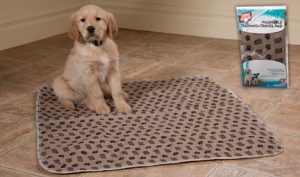 Old Towels and Blankets for beds
Instead of throwing that old towel or ragged blanket out, consider reusing it for your dogs. Old towels are brilliant for using in the car, using for travel and of course brilliant for drying Fido after a muddy walk or a shower.
If the blanket is too big, you can always cut it down to the size needed. I am sure your dog won't mind that it is faded or the wrong color- he just wants something comfy to lie on.
If you have no use for old blankets and towels, consider donating to local animal shelters. They are always in need
Old Newspaper
Old newspaper can be used to aid toilet training instead of plastic pee pads and for picking up your dogs waste on a walk.
In New York, people often take out their old newspapers out on a dog walk to use to pick up their dogs mess. Lisa Newman told us that in Hong Kong, people walking their dogs use squares of newspaper and put on the pavement as soon as their dog starts to make a mess so the poop doesn't even touch the floor. What a great idea.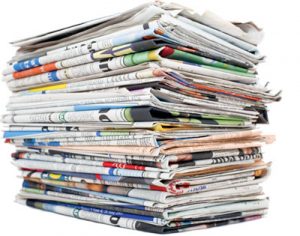 Make Dog Toys
Naomi Yasmin Barnes and Dawn Ann Langan both make their own toys out of left over cardboard. Naomi's labrador puppy has a huge cardboard box which is used as her activity center. She can destroy it and play with it however she likes (always supervised of course). Dawn uses old cardboard boxes and empty plastic bottles to make fun games for her dogs.
We use empty toilet paper rolls to make interactive treat games for the dogs. Here is a video of Olive the Portuguese Pointer having fun with a folded cardboard toilet paper roll filled with treats.

You can also use old sheets and scraps of material to make fun toys for the dog. All you have to do is cut the pieces of material into strips and braid them together. That's it. So simple.
Biodegradable Poop Bags
Instead of using plastic bags (which are not recyclable and contribute to landfill waste), make the switch to biodegradable poo bags to pick up your pups waste. Lianne Buttrey only spends 50p ($.65) more buying biodegradable poop bags than the same amount of conventional plastic bags.
If you have a garden, installing a dog waste compost binis a great idea. Annette Plant and Becka Box both throw their dogs waste on the dog compost to be broken down naturally.
(Important safety notice. Care must be taken to ensure that the compost reaches high enough temperatures to kill off roundworm. It is not recommended to apply compost containing dog waste to food crops)
So that's it. Our top tips on being a responsible dog owner by reducing waste and helping the environment.
What are your top tips to reduce waste as a dog owner?