Is your dog the best dog ever?
I am pretty sure my 3 share the title of naughtiest dogs ever, but I know they are the exception to the rule!
Most people think that their dog is the best dog ever and most people are right.
Because your dog is the best dog ever, should it not be fed the best dog food?
When the team at Merrick asked us if we were interested in reviewing a few cans of dog food we jumped at the chance. Having 3 dogs with different likes and dislikes sometimes makes dinner time a chore. I was pleasantly surprised with how much they all liked the Merrick Dog Food (and how much they all wanted second helpings!!)
Merrick is made in the USA and sourced from local ingredients (so you won't find any ingredients imported from China here). All formula's are all natural and grain free and manufactured in facilities that uphold the strict guidelines defined by the FDA.
If you have a fussy pup (like one of ours *cough Houdini and Harley Quinn*), Merrick has over 125 dog and cat formulas so you can find something for even the fussiest eater!
The dogs  were sent 3 canned formulas to try Real Texas Beef, Pappy's Pot Roast Dinner and Big Texas Steak Tip Dinner . We were so surprised to see real vegetables and meat inside the chunk formula's that Houdini decided he needed to dress for the occasion (he likes to look dapper for dinner).
Harley Quinn decided she did not need to dress for the occasion and took a break from destroying things to pose for a picture with some of the cans we were sent to try.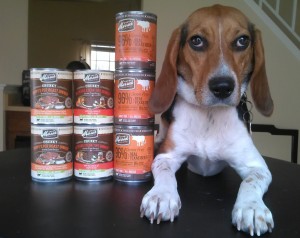 This received a paw up from all 3 dogs and also a paw up from mama as the convenience of opening a can filled with goodness is much more convenient than cooking a meal  every night for the dogs!
Website http://blogp.ws/PyFKUB
Facebook http://blogp.ws/1jJdGWI
Twitter http://blogp.ws/1iTrOju
Instagram http://blogp.ws/QDdTDR
GIVEAWAY
Merrick is offering one winner a year's supply of dog food ($600 value). The team at Merrick will help
the winner figure out what products are best for their dog dry/ wet or a combination of both. Giveaway is open to U.S. residents 18 and older.
Good Luck Guys