The wind has set in, and the days are getting colder and colder. With the weather change comes the rain. For dog owners everywhere, rain means mucky pups!!
On every single walk now, I find that I am having to clean the dogs afterwards. It doesn't rain every day thankfully, but the lack of sunshine means that mud and puddles linger for much longer than they did previously.
Like many owners, I don't like washing my dogs every day so use various other strategies to keep my 3 dogs clean and my apartment free of muddy footprints and wet dogs
Wipe Down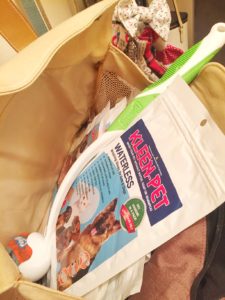 By my front door, I have a set of hanging rods designed for coats but that I have modified as my dog area.
I have their leads and collars hanging up ready for any walk. But I also store the dogs jumpers and coats here so that they are all in one place.
I have a bag filled with Kleen Pet dog mitts. I use these for cleaning the underside of each dog (which gets super dirty with small dogs) and cleaning all 4 paws. What this does is reduces the dirt coming into the apartment and also cleans the dogs naturally. I then turn the mitt inside out and do a quick once over on the tops of the dogs and their tail.
I like the Kleen Pet Waterless cleaning glove because it stands up to any grubby dog (even fox poo), and also uses natural ingredients with minimal fragrance.
If you have a wrinkly faced dog (frenchie, bulldog, shar pei), these are perfect to get inside those spaces where the mud and grim collect in a nice easy manner
Avoid Puddles
As silly as it sounds, we sometimes don't notice where Fido is walking while out on a walk.  Often what we think is just a tiny puddle, ends up being the largest (and deepest) Bog of Eternal Stench we have ever come across. Keeping Fido nice and close while on lead prevents him being able to dive into the puddles while out on a walk.
If your dog is off lead and you see him heading towards a nasty puddle, use it as an opportunity to practise your recall and get him back as fast as you can.
Don't Walk Near the Edge of the Curb
In the city, most drivers don't care if they drive through a puddle at record speed spraying mud and water on whoever walks by. By getting into the habit of keeping your dog closest to the buildings while walking, you can avoid the "overspray" from the cars on the street.
Timing is Everything
Download a weather app on your phone that gives you hourly breakdowns. If it is due to rain at 9am, take Fido out an hour earlier for his walk. Sometimes avoidance is the best policy. We have been known to condense our walks into smaller breaks in order to avoid bad weather. Sometimes it is just easier to give two, 15 minute walks and avoid the rain rather than one 30 minute walk.
Be prepared this winter and keep Fido clean