We have teamed up with some of our favourite UK brands to offer our biggest ever UK giveaway valued at over £1000!!
Every day for 12 days, you and your dog have the chance to win all 12 days of prizes varying from dog clothes, toys, treats, accessories and food.
It is sure to be the best Christmas you and your dog have ever had.
So here we go
On the 6th day of Christmas, City Dog Expert gave to me…..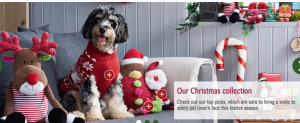 Pets at Home offers the ultimate pet shop experience. It really is a paradise for pets and pet owners. We have all the pet supplies, pet food, toys and accessories you and your pet need at great value prices.
All our store colleagues are fully trained in pet care and dedicated to the welfare of your animals, with most of them being experienced pet owners themselves. So whether you are a new owner or an expert, our store colleagues are on hand to help you make the right choices.
Enter Via Rafflecopter below