The lovely people at Spongables sent us the Haute Dog Bath Buffer to try out on the hounds (specifically the dirty dog that is Harley Quinn).
Bathing the dogs has never been the most fun thing in the world, and I often get more wet and covered in product than the dogs do! I was biting at the bit to try the dog shampoo sponge to try and make my life (and my poor bathrooms life) easier.
Harley is a dirt dog. As soon as she sees mud, sand, grossness anywhere in sight, she is rolling in it like a cat on catnip!!
Having a city sized bathroom does not give much space for my own products (let alone the dog products) so having a time saving and space saving product such as the Bath Buffer is perfect for a busy city person. All you have to do is wet the sponge and use it on your dog. The sponge is already saturated in a pH balanced shampoo meaning that you do not need to apply anything else to your dogs wet fur.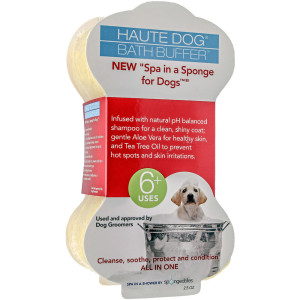 This time saving and incredible smelling sponge is not only pH balanced, but contains aloe vera and tea tree oil to keep pups coat glossy, smelling delicious but also healthy.
Thumbs (and paws) up
City Dog Expert