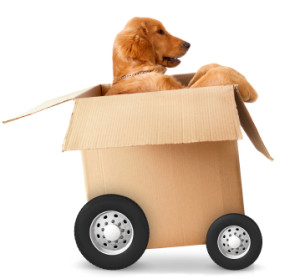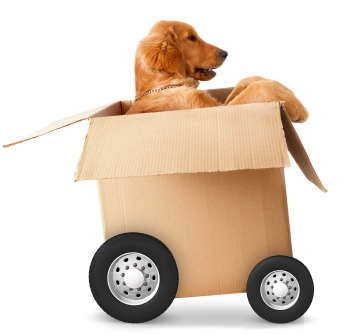 Moving apartment is a very stressful task for people and pups alike and this particular move was one of the worst for both myself and the pups. Literally everything that could go wrong, went wrong!
Once all the boxes and furniture arrived at the new abode, it looked a lot like "box city" and I had to look after animals in the middle of all the chaos.
TIPS FOR A SUCCESSFUL MOVE WITHOUT TRAUMATIZING YOUR PETS OR YOURSELF!!!
Be Prepared
Your first task is to make a "safe zone" for the pets. I had given very clear instructions for the movers to not put a single box in bedroom 2 as this was going to be for the animals. We were lucky that we had a second bedroom that could turn into the animal nirvana, but most people will not have that luxury. If that is the case, get a puppy pen, or gate off an area of the house (i.e bathroom or kitchen) that is a chaos/packing box free zone and set up everything needed for your pup.
Before a single human thing was unpacked, I unpacked the box marked "PET ASAP" which I had prepacked with their beds, pee pads, boredom buster toys, favorite treats and pre stuffed kongs. Literally every toy that my dogs loved, or even liked was placed in the room along with approx 10+ flossies, bully sticks, chews, etc. The idea behind this was to create a "fun zone" for the pups so that they enjoyed being in the new environment and were having so much fun with all their toys and food, that they did not notice all the distractions too much.
Prevent Panic
In the "pet room" I also put my phone playing music and used a DAP plug in and collar to try and create a sense of tranquility. Some dogs may need a thunder shirt and composure treats to additionally relax them, but thankfully my two were fine.
You also want to try and exercise your pups as much as possible to keep them in their normal routine and nice and tired. Use this is a great excuse to try out the new local dog park or test new walks.
Post move blues
Moving is stressful, but the more you get out of the house  with your pup the better. Going for walks is a great way to try and relax you both and create excitement about your new life in a new place.  After the initial moving shock, have a glass of wine for yourself and fav treat for your pup to try and both relax in your new environment.  Sit down on the floor and give your pup belly rubs and let them know it is all going to be ok. Dogs feed off of our energy and allowing them to see you relaxed and content will really help your pup unwind some of their moving stress also.
Prepare a Plan B
If it is too much and the stress of moving is getting too overwhelming for either you or your pet,  please send your dog to their favorite pet sitter, daycare facility or "aunty" to allow you the time to organize things safely without adding additional stress to you or your pup.