The idea is simple, yet very effective: All you have to do is tie a yellow ribbon to your dog's leash!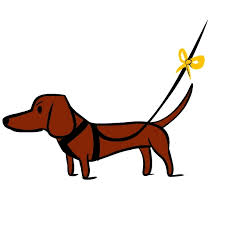 It conveys the message that your dog needs space for one or several reasons:
1) He may be recovering from surgery or sickness
3) The pup may be in training to become a Service Dog (or otherwise working dog)
4) He may be dog (or people) reactive
5) He may be deaf and/or blind and easily startled
An alternative for adding the yellow ribbon to a dog's leash is to have the dog wear a vest or a bandana saying "I Need Space". In addition to outfitting the dog, his handler can become a message board as well by wearing a "My Dog Needs Space" t-shirt or hoodie!
The Yellow Dog Project has become a worldwide movement since its beginnings in 2012. It promotes the safe approach of leashed dogs in general, as well as recognizing dogs in need of space by their yellow accessories in particular.
Ask For Permission Before Approaching & Petting A Dog
Always ask a dog's owner for permission to approach and pet their dog!
Theyellowdogproject.com and www.yellowdoguk.co.uk are not for profit organizations who accepts donations, all of which go towards the creation of ribbons, posters, and human apparel.