It's been a long weekend. Half of the dogs are broken.
Houdini is still suffering from his knee injury and has been referred to an osteopath, and Finn (name still unsure), has cracked his paw pads and limping.
We ended up going to the emergency vet yesterday as he was not putting any weight on his foot at all. Similar to my own theory, the vet thinks his pads have become this bad from running with his old owner, sea water (he lived by the beach) and constant licking. I have been adding aloe vera jelly to his pads every few hours and bandaging it up as best I can. The vets did a wonderful bandage yesterday but Finn ripped it off. Sigh!!!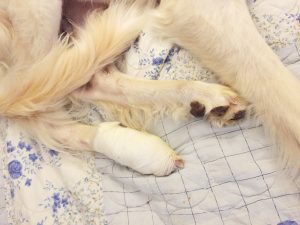 Sometimes it is so exhausting being a dog owner. While most of my friends were out having picnics, going to dog shows, adventure weekends and even music festivals. I was at home nursing sick dogs and trying not to go crazy having spent yet another weekend alone with the dogs watching Netflix.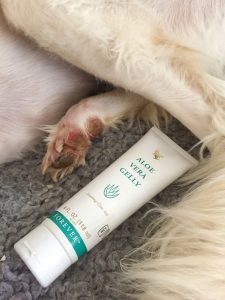 Being a single dog owner is hard at times. The dogs are wonderful and I love them to pieces. But, I am solely responsible for them and they need me at all times. Sometimes, my life has to pause in order to put them first.
Just a little overwhelming when half of them are broken at the same time
xoxo