One of the best things about being in the EU is the freedom of movement for both people and canines. Hopefully this won't change with the forthcoming British Exit from the EU (Brexit) and will stay as is for the next 2 years at least.
Travel is a very important part of my life and I want my dogs to experience it also. From within the EU, the Pet Travel Scheme (PETS), is an easy way to include Fido in all adventures you go on. We have traveled within the EU without any issues and thought we would share a few tips we have learnt along the way.
Here is our step by step guide to travelling within the EU with your pet
Microchip
In the UK, Microchips are mandatory but that isn't the case in all countries. Make sure your dog is microchipped before you start the vaccinations. It is really important that the microchip is done prior to any travel related vaccines as per DEFRA regulation. Make sure your vet scans the chip and that it works prior to any vaccines.
Vaccinations
Make sure you allow enough time (and money) to organise appropriate vaccinations for your dog. Your dog must be up to date with all vaccines and in good health to be approved for travel
Rabies Vaccine
As the UK is rabies free, this vaccine is compulsory before entry into the United Kingdom. You can't travel for at least 21 days after your dogs rabies injection so make sure you plan ahead.
Make sure you keep note of the renewal date. We prefer to use 3 year vaccines but some vets still only do yearly ones.
Pet Passport
Most vets will charge for signing off on the passport. Our current vet charged £45 ($60) per passport but make sure you ask for a multi-pet discount if you have more than one pet. The process is really easy and just a few stamps and signatures are needed to make sure everything is legal. The Passports have recently changed and there is now a clear plastic film that the vet needs to use to cover the signatures. Make sure that your vet uses it as it will give you trouble coming back into the country if the plastic is not used (we have had to deal with this previously and it has held us up numerous times)
Travel Fees
Most travel companies charge a fee for travelling with your pet. Make sure you have paid this ahead of time as these can range from a few hundred for airline travel to a £20-50 on a ferry or train. Make sure you budget this into your travel fund as unexpected surprises like this can shock you.
Crate Train
Depending on your mode of transport, your pet may need to stay in a crate for the period of the journey. This is especially true for flights and for boat crossings as a crate is also useful if your dog needs to stay in the car without you. A lot of Ferries will not allow pets on deck but only have them stay in the car. Keeping your pet secure without you is a smart idea.
Travelling on Euro Tunnel is easy as you stay in the car with your dog.
Some ferry companies require that your dog is muzzled while being exercised or checked at port so make sure your dog has practiced wearing a muzzle.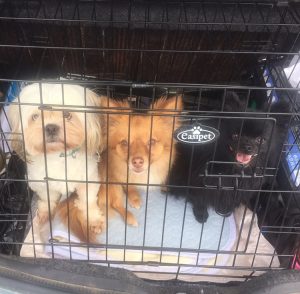 Tapeworm
On your return journey, your dog will need to be treated by a foreign vet for tapeworm 1-5 days before reentry into the UK. Make sure you factor this into your planning and have a few approved vets on call to sign and stamp the passport in order to return
Please note that your dog must be a minimum of 15 weeks old at the time of travel and up to date on all vaccinations
Hope that was helpful for you all. We can't imagine going on holiday without the dogs now
Have you traveled anywhere within the EU with your dog?