When we were at The National Pet Show in Birmingham, we met a lovely business called Olive's Larder and decided that we would like to do a Dogpreneur interview with them.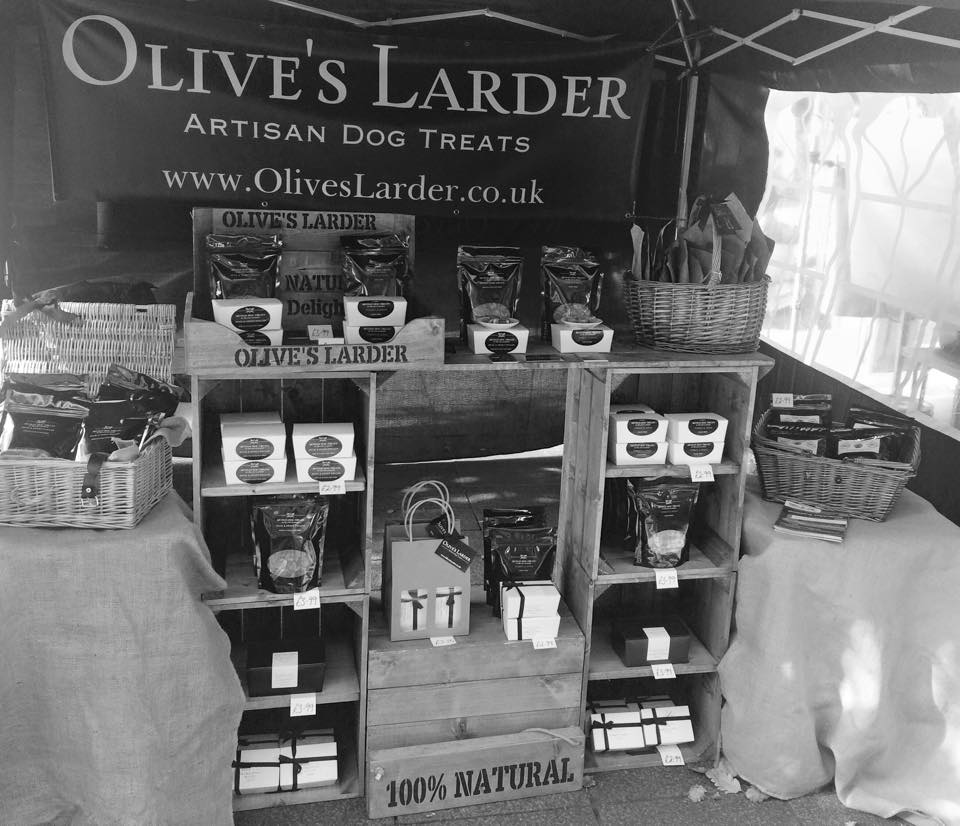 Hello there! Welcome to City Dog Expert. Could you introduce yourself, please?
Hi I'm Katy Handley-Quint, mother of 3 beautiful girls and the owner of Olive's Larder.
And what is your business, Katy?
Olive's Larder is an independent family run Hampshire based business specializing in hand baked artisan dog treats.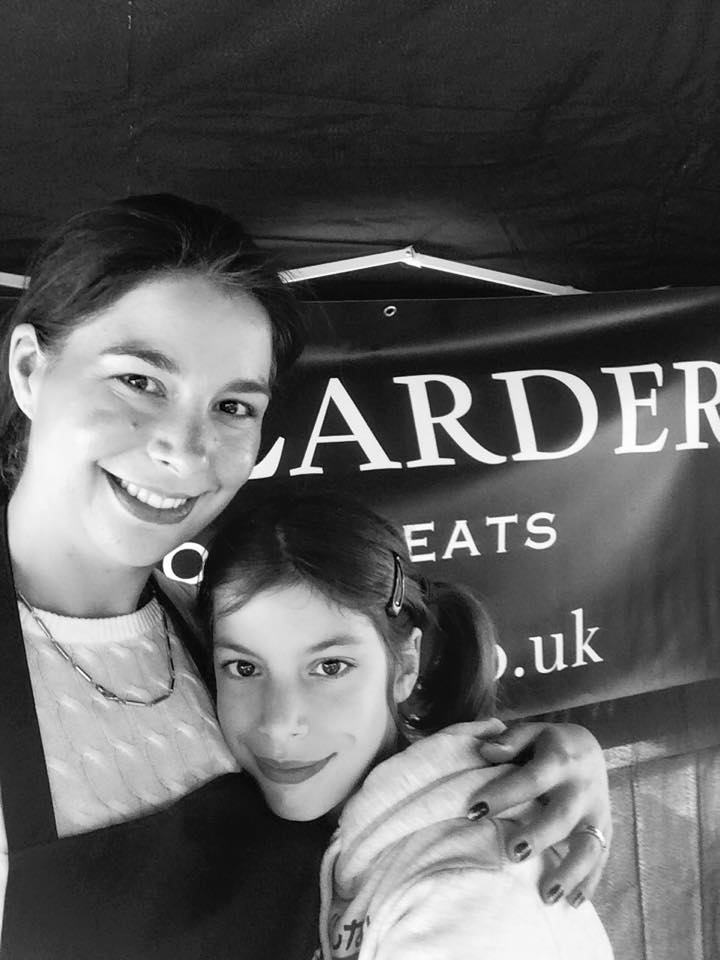 Who / What inspired you to come up with the name "Olive's Larder"?
The business name "Olive's Larder" was chosen for a couple of reasons…I wanted it to mean something to us as a family and not be generic as we are a family run business and so we chose Olive.
Olive was our late Cavalier King Charles but we now have little Poppy another gorgeous Cavalier. Predominantly though I chose the name Olive in memory of my Grandmother Olive who loved to bake and hand make all of the food for her dogs which is a very fond child hood memory of mine….helping her to make and bake in the kitchen. I chose the term Larder though as I wanted the business to reflect homemade & quality and so sat at my kitchen table with a notepad and pen playing with a few name variations Olive's Larder was very, very quickly settled upon.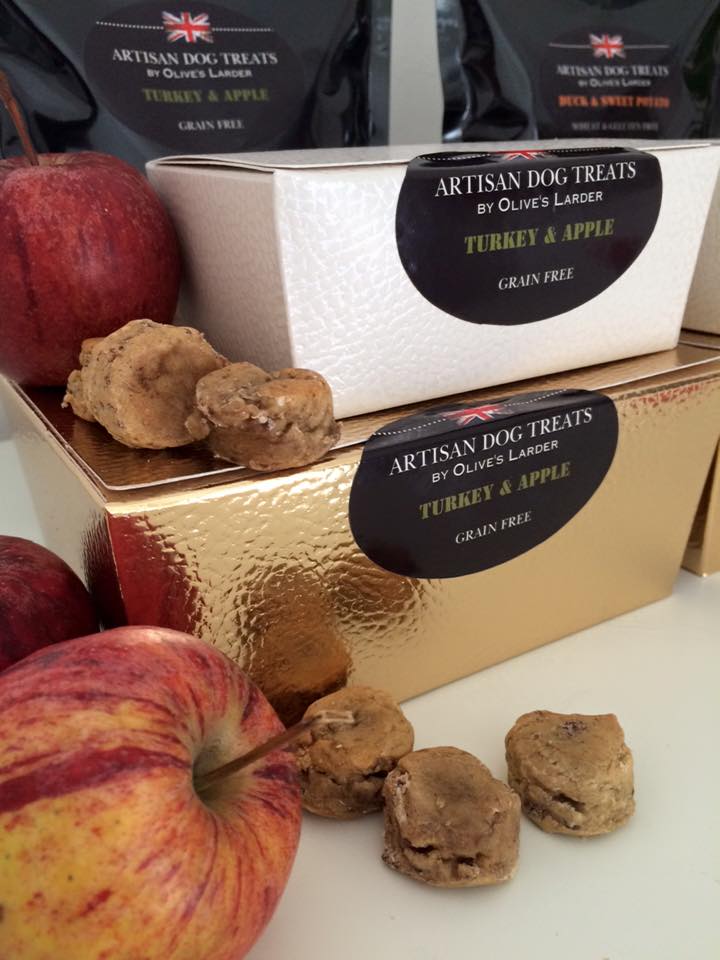 It's so lovely that your Grandmother and your dear departed friend has been immortalised in the name of your brand.
When did the inspiration for Olive's Larder begin?
The inspiration for Olive's larder has been brewing for about 9 years. I didn't just wake up one morning and decide to bake dog treats!
After dealing very closely with veterinary nutritionists over the health requirements for my own dogs Olive and Poppy, it soon became apparent that the 100% wheat & gluten free treats & food they required were very hard to come by or were very expensive and so I made all of their dinners and treats myself.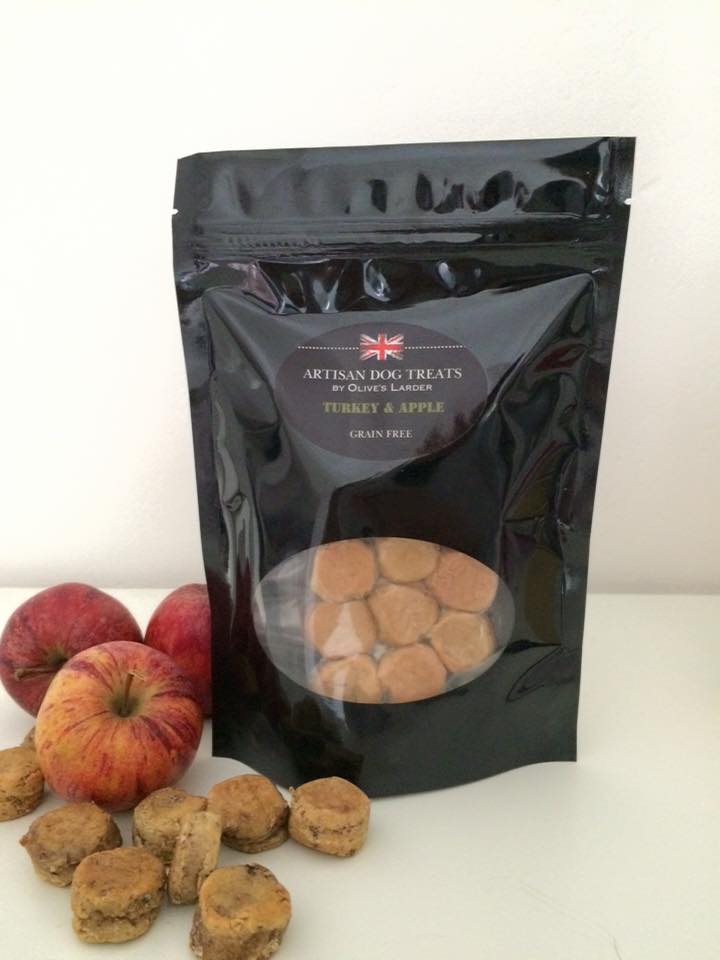 Being a home cook though I never only made a small batch of biscuits I always ended up with hundreds and so often gifted them to friends. Some of my original recipes are even in my craft book "Simple Elegance the Big Little Home made Gift Bible" that launched about 5 years ago now.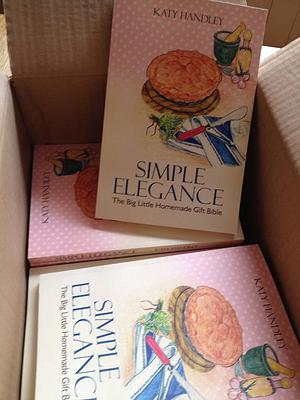 However after a lot of friends asking for more and more biscuits because their dogs loved them so much I had a glass of wine with a friend one evening and joked that my new business venture should be dog treats and she said "why not? Do it? What have you got to loose…you're baking for Poppy anyway?!" and that thought stayed with me for quite a while and was always in the back of my mind.
Over time I developed and enhanced my recipes and bakes to a beautiful soft textured individual bite size treat that is packed full of flavor and only 100% natural goodness. They're just a really delicious savoury bake to be honest….and after extensively liasing with the nutritionist and once I was happy and Poppy was very happy with the final recipes I launched Olive's Larder in early 2015 and it's been a whirlwind ever since!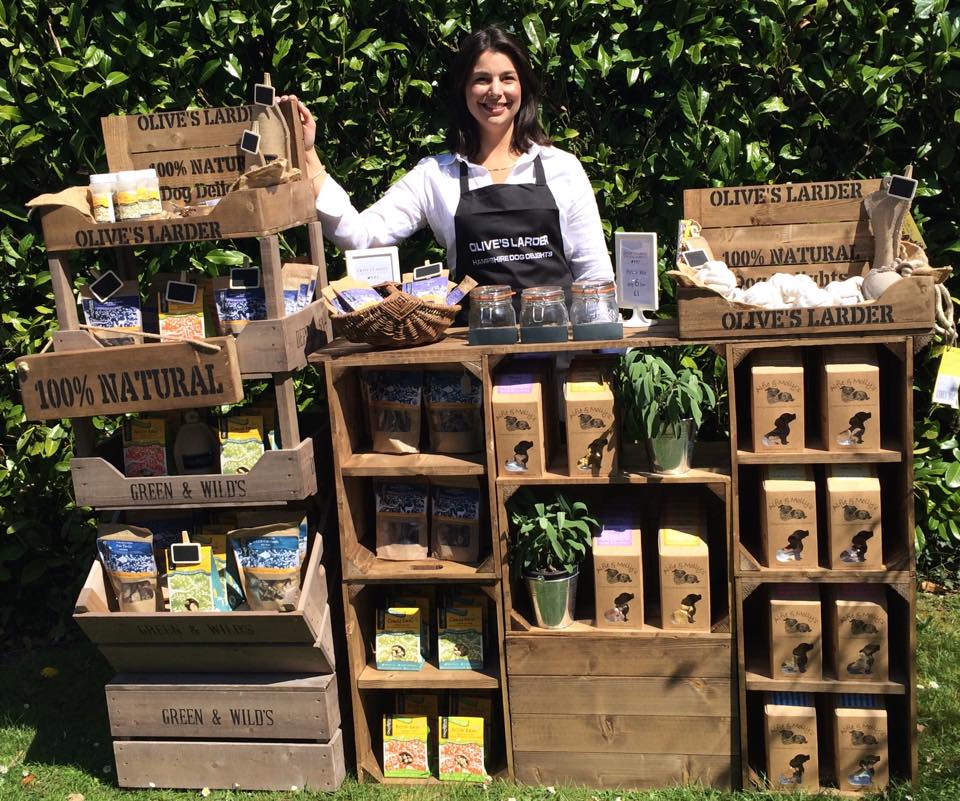 Tell us about the products you offer.
Olive's Larder is an online store that offers natural dog treats and natural toys all at great prices. We stock not only our own artisan dog treat collection but we also stock a handful of complimentatry ranges from local business to offer dogs the best variety and highest quality.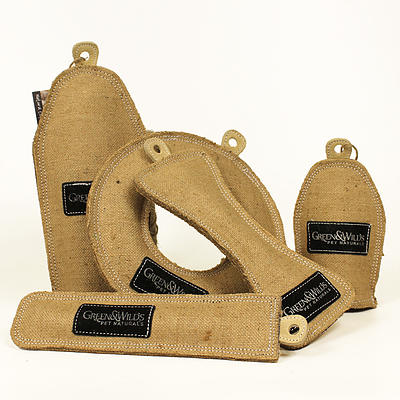 The Olive's Larder range though, is a soft baked hand made treat. It has a gorgeous brownie type texture with is soft on the palette for the dogs but offers enough crunch on the outside to indulge their senses.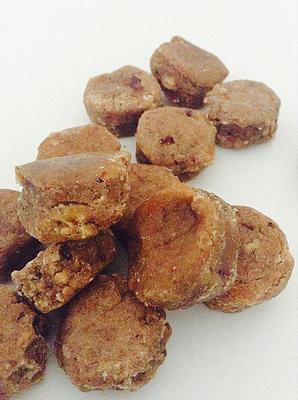 We offer a wheat & gluten free variety as well as a very low fat grain free range. Our treats come parceled in a 75g textured ballotin gift box RRP £2.99 or for just £1 extra for double the quantity our treats are available in the 150g elegant high gloss re-sealable pouches RRP £3.99 and for a limited time only our treats are also available in a 150g luxury gold gift box RRP£3.99 .
Our entire range of treats, eco toys & bandanas are all available direct from our online store www.oliveslarder.co.uk
"We don't use anything artificial in our yummy dog delights just simply 100% natural goodness…"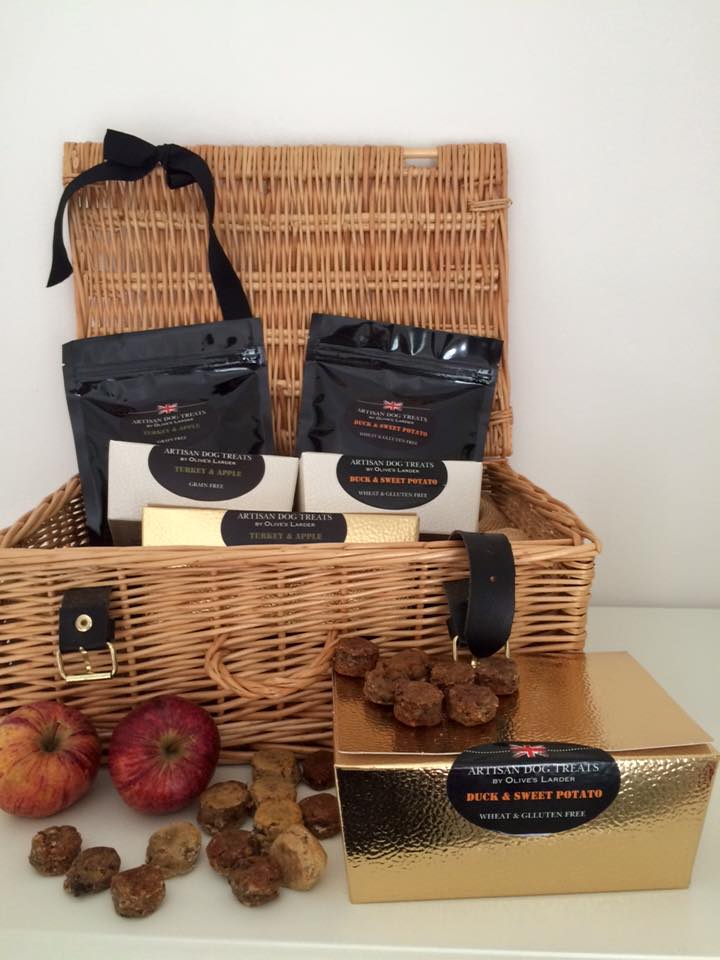 What does the future hold for Olive's Larder?
The future for Olive's Larder is very exciting. We were expecting to have a relatively quiet first year of business whilst we build the brand but it's been the exact opposite! Our customers and media reviews have been phenomenonal and our products have been so well received by the market.
We take our pop up larder direct to the public exhibiting all around the country, including the national pet show in Birmingham this year, which we will be back at next year too as well as the London show. Balancing all of this with the family we really are genuinely incredibly busy.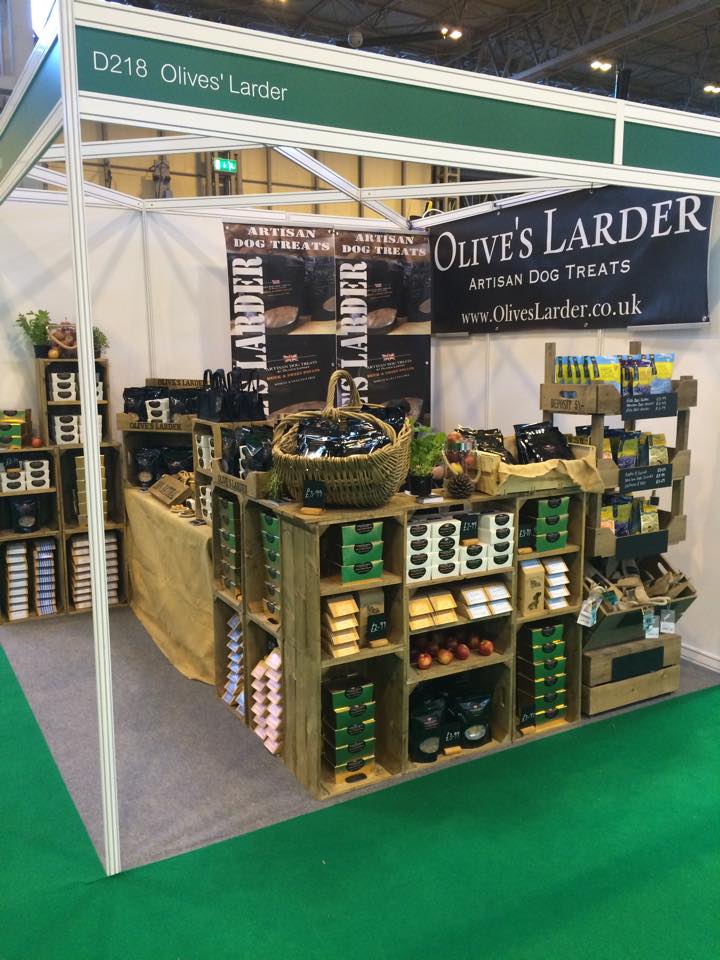 We're a family business so we pack every item ourselves, stick on every label by hand, every enquiry is answered direct and by myself and I ship every package to stockists and customers alike myself. I feel we offer something truely unique to the dog treat market. However we won't be looking into mass production any time soon-our products are artisan and hand baked and we want to stay true to this to offer the best quality for the dogs.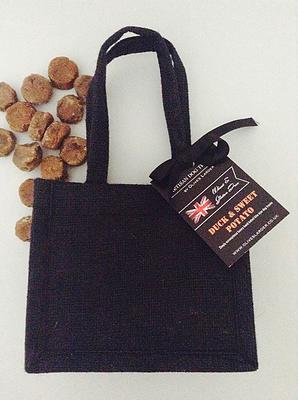 Our stockist list is growing daily and our media reviews are so positive, we couldn't be more thrilled with how our first year has been.
It doesn't stop there for us though…with enough hard work and the determination that's currently fuelling the business we're hoping to be a big key part of the dog treat market going forward…
Thank you so much for giving us this interview, Katy. It was lovely meeting you at the National Pet Show and we hope to see you again. We wish you much luck in the future.