Keeping Dog Fur Under Control in a Small Space
(This is a paid promotion for Pet Teezer, however all words and opinions are my own)
The joys of City living with our dogs includes lots of hugs, kisses, and countless laughter. What no one seems to prepare us for is the amount of fur that comes from our canine housemates.
Keeping City apartments tidy, and pet fur under control is a constant battle in a small space. With that in mind, we put together some of our fav hints and tips for what works in our small apartment when the fur is flying free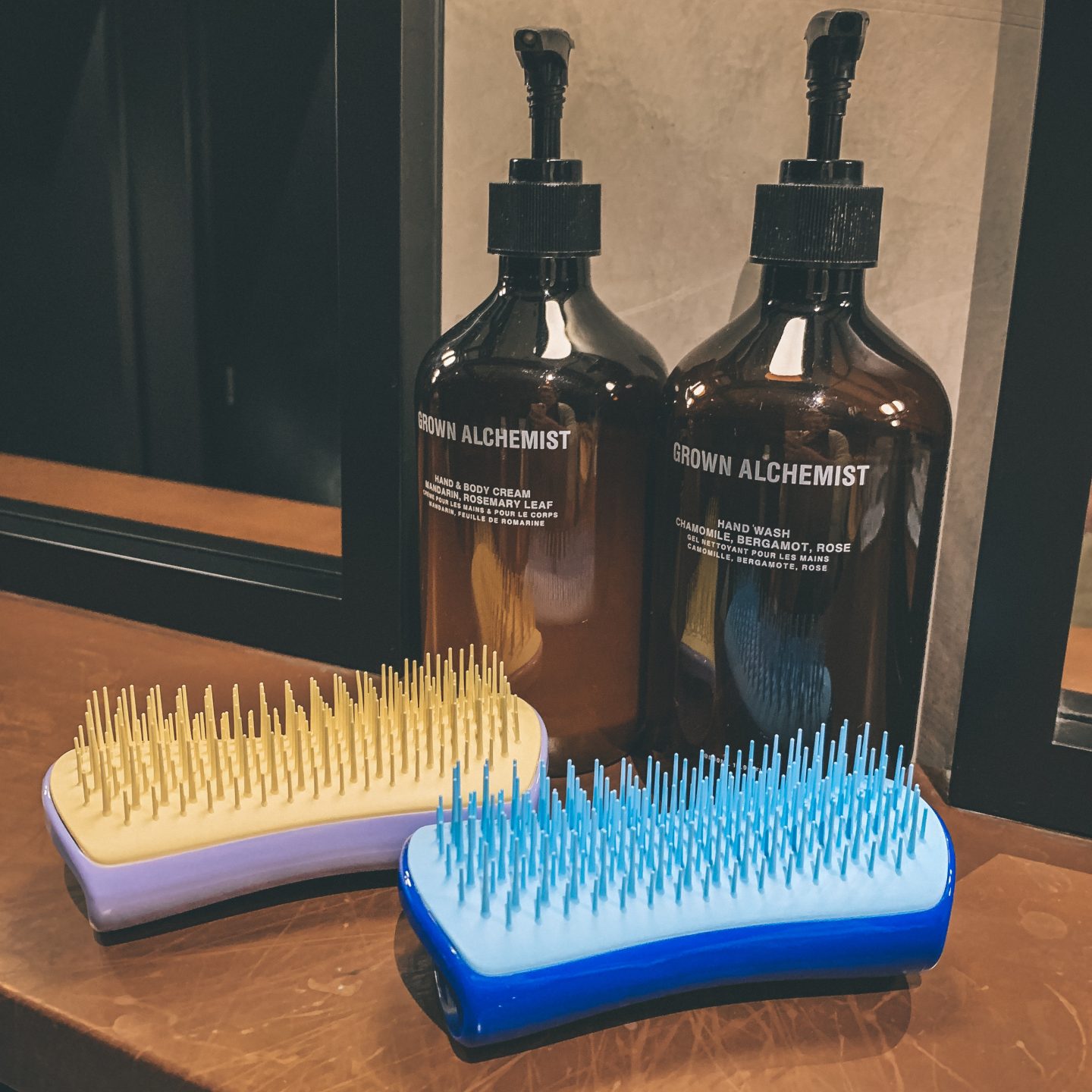 How to Prevent Dog Hair From Taking Over
Keep Your Pet Brushed and Bathed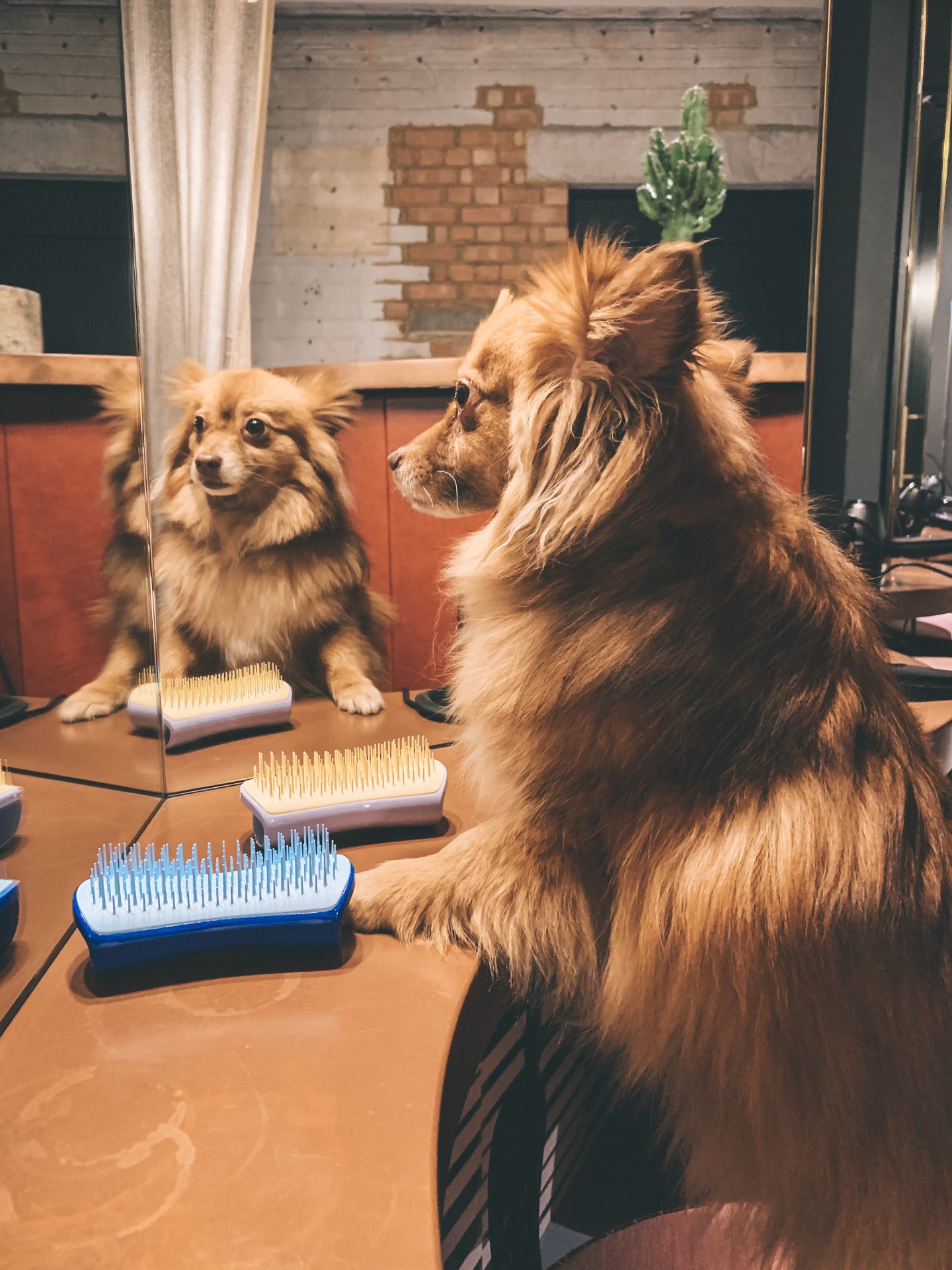 The first step in controlling pet fur is crucial- limit the amount of dog hair that is able to cover your home space!! This starts with regular washes, brushes and grooms.
Brush regularly – ideally two or three times a week, for not only a shiny, healthy coat, but also as a means for fur control.
The Pet Teezer Detangling brush is an easy to use grooming brush that will keep your dog's locks flowing free without pulling or discomfort. The other advantage of regular grooming is that it's also a good time for a health and skin check.You can also use The Pet Teezer to separate fur to see skin level for any lumps, foreign objects, fleas etc; use in the reverse direction for short coats
De-shed – as well as regular brushing, if your dog is prone to moulting, a de-shedding brush will keep their skin aired and prevent infections. The Pet Teezer De-Shedding brush has two-teeth technology meaning the excess fur stays in the brush and not all over your carpet, making the process less of an assault on your home!
As the Pet Teezer is now available in small (as well as standard sizes for dogs), there is no excuse to not get brushing. Chaplin uses the largest size, but the pomeranians all use the smaller size. It makes grooming so much easier and perfect for City Dogs of all shapes and sizes.
Keep Furniture Fur Free By Using Blankets/Covers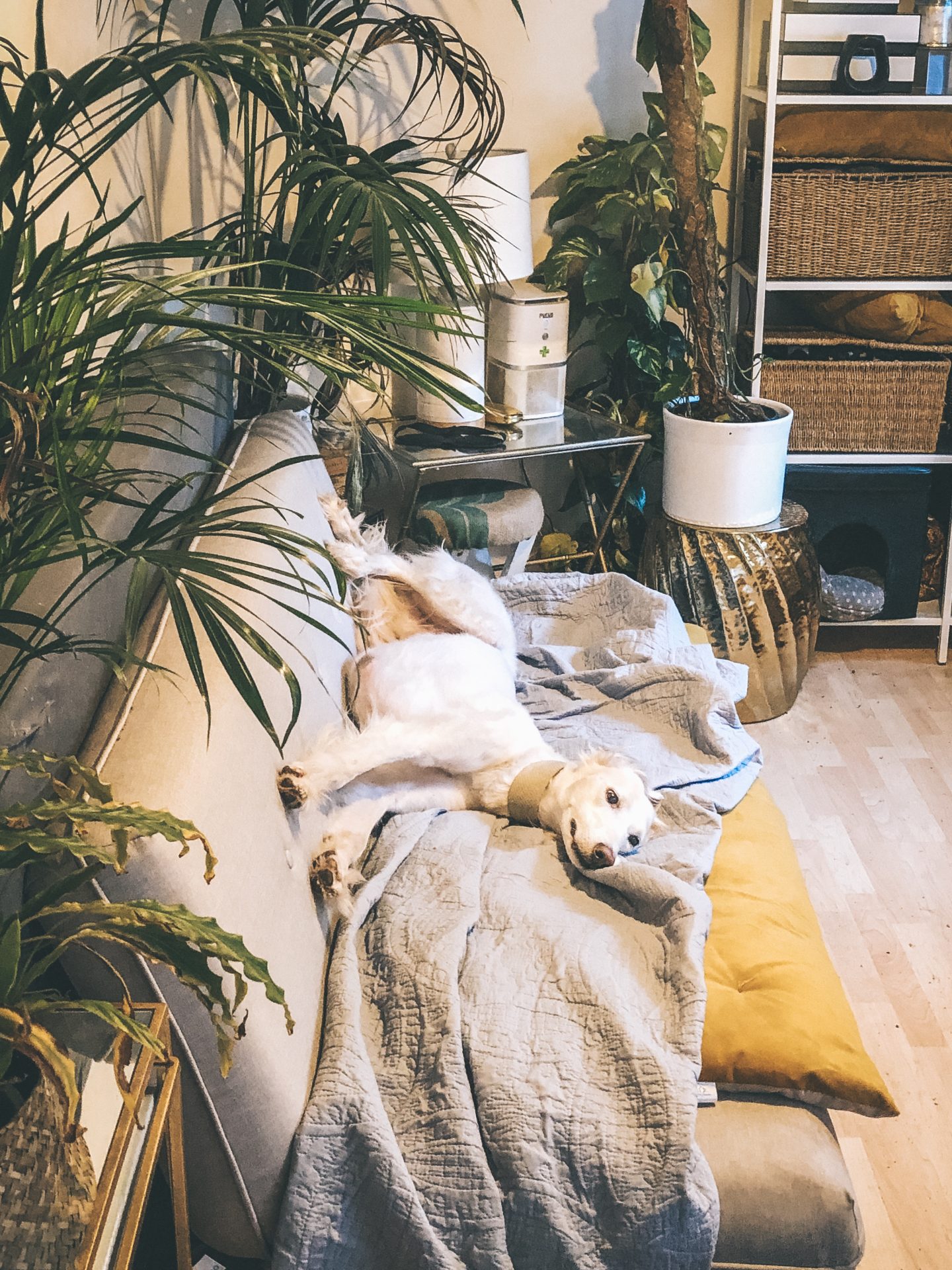 We often use washable slipcovers to protect our furniture. Nobody wants to sit on a sofa covered in pet hair — not you, not me, not your guests. Invest in a few furniture covers specifically made for the purpose. If you have an awkward shaped sofa (or like us, constantly are changing the decor), a few extra large blankets thrown over the sofa in an artistic manner will do the trick. Make sure you clean them regularly with a good airing and daily shake outside, and wash and dry once a week to remove embedded fur.
Remove them when your mother in-law or landlord visit….and voila. A (kinda) fur free sofa for all occasions
Keep Bedding Fresh and Clean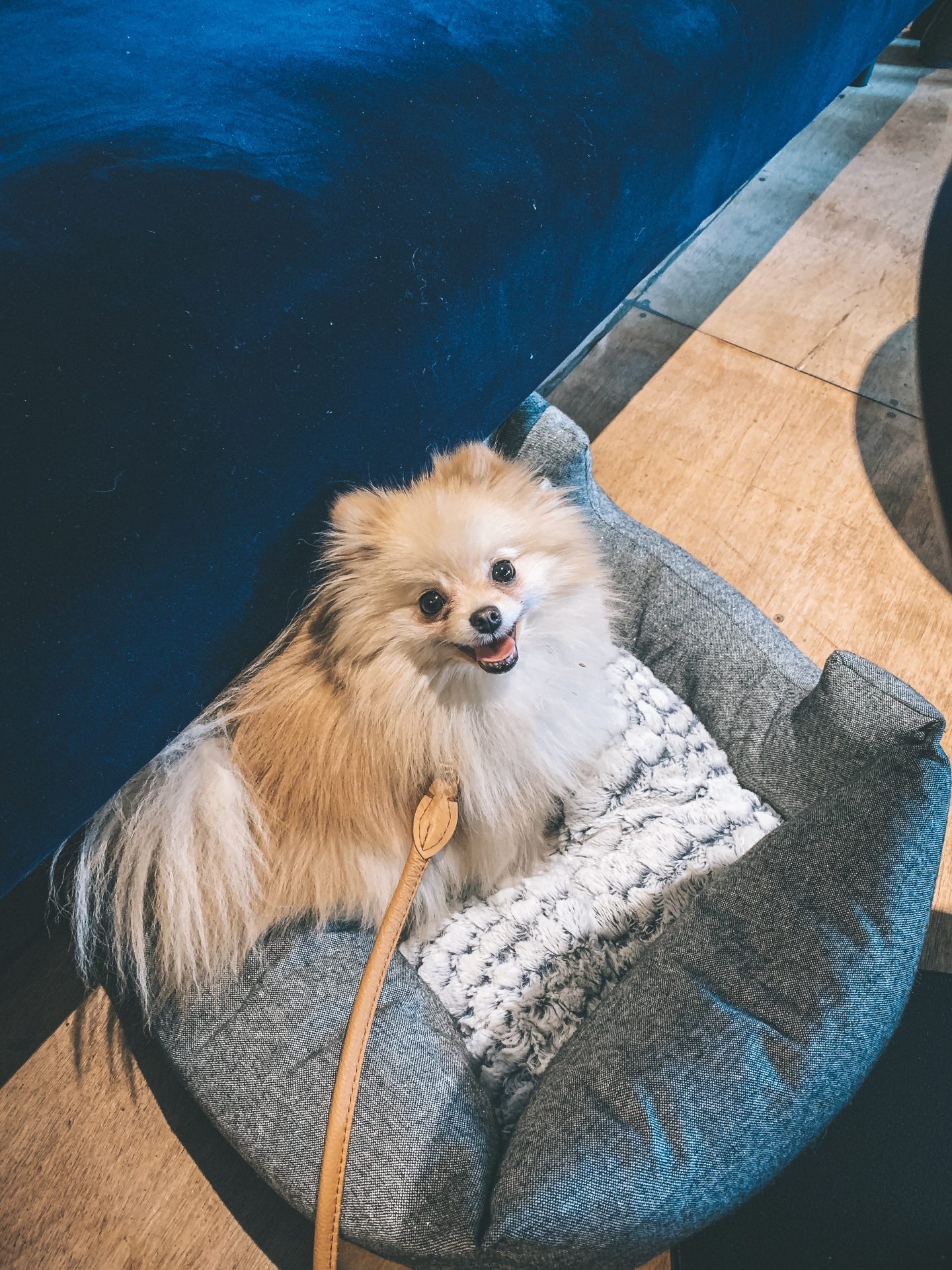 If you have dog beds, you are familiar with the little piles of fur that appear in the corners and under them. I have no idea why dog bed manufacturers design their products to attract so much dog fur, but that seems to be the age we are living in 😉
We wash our dog beds at least once a week. With a total of 18 beds (crazy dog bed lady!!) keeping on top of dog bed fluff is important. It also has the added bonus of not only keeping fur under control, but also odors are reduced.
Rubber Living for Fur Control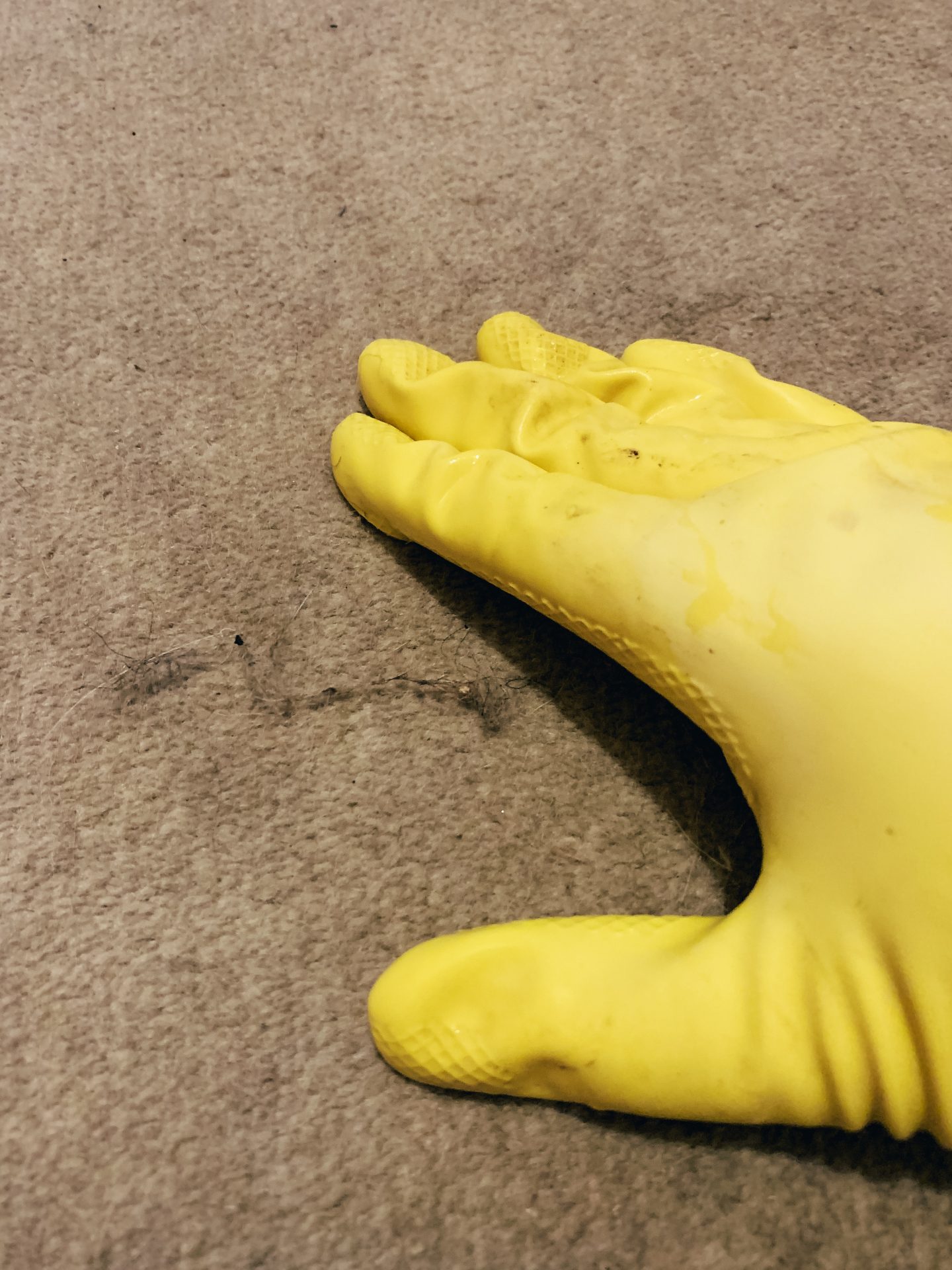 An easy way to remove pet hair from a fabric sofa or carpet is with a damp rubber glove. Yes you read that correctly….and I haven't gone mad. Trust me on this one. Rub the glove over sofas and chairs until the glove is full of hair. Rinse and repeat as necessary. Add extra levels of kink/cleanliness by rubbing in both directions.
You're welcome my dears. You're welcome. Come join the rubber club…not that rubber club you filthy beast!! Lol
Keep Your Floors Sparkling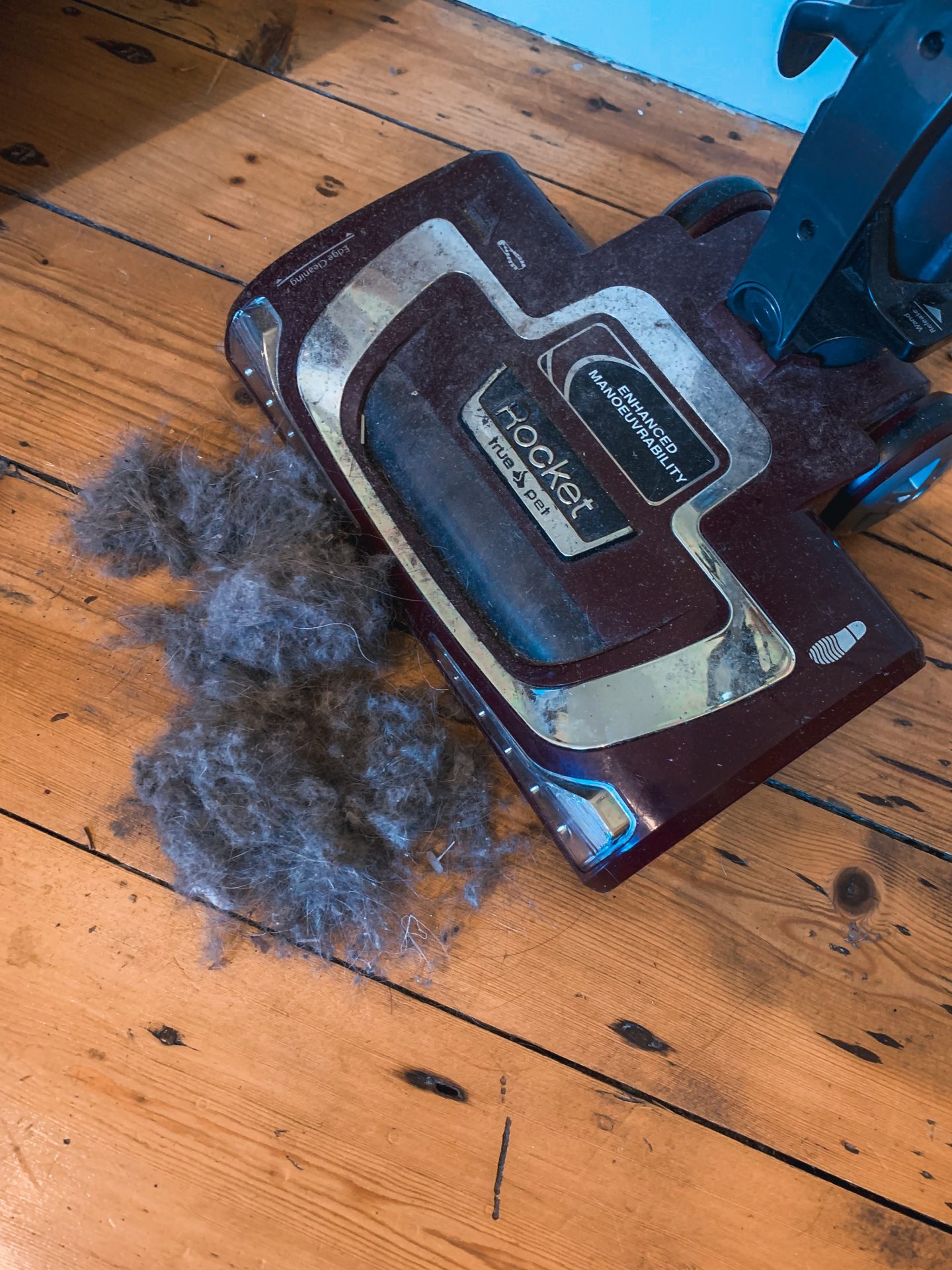 The preferred type of floor to deal with pet hair is hardwood or tile, but sometimes us renters don't get much say in replacing the floors in a rental. I mean my landlord is nice, but I am sure even he would object to me ripping up the carpets. However, carpet is the biggest problem for us pet owners when it comes to keeping on top of the fur battle. Regular sweeping and vacuuming is going to help you stay on top of fur management. A vacuum with strong suction is your friend when it comes to removing fur from carpets.
If all else fails, change the carpets to match the color of your dog/dogs 🙂
Any other tips or tricks that we have missed to help keep dog fur under control?
Pet Teezer is recommended by Battersea Dogs & Cats Home where a donation from each brush sold goes to the charity. Pet Teezer Small Size grooming brushes are priced £10 each, the standard size brush is £12. Both are available now from Petteezer.com, Pets At Home stores and Petsathome.com.